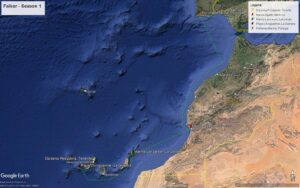 After 5 years on the hard, SV Falkor finally made it back into the water. We spent a little over 3 months refitting the 1977 Trintella IV in Portimao, Portugal. We lived on the boat in the port and become a part of the local cruiser community. With many "until next times" and "fair winds," Project Falkor began to head south for Africa.
Agadir, Morocco became the first stop after high waves closed Rabat and Casablanca. Time spent exploring the amazing mountains and friendly Berber culture passed quickly and it was time to head out to sea again.
Season 1 ended in the Canary Islands. After exploring the varied ecology and distinct towns across Lanzarote, we headed out to sea once again. Wind and waves forced us to return to the islands, but not before the world closed for Corona. Quarantined off of La Gomera for over 70 days, before making port in Tenerife was both a blessing and a curse.
Finally, a week in Tenerife was spent getting Falkor ready for a slumber and finding flights back to the US.